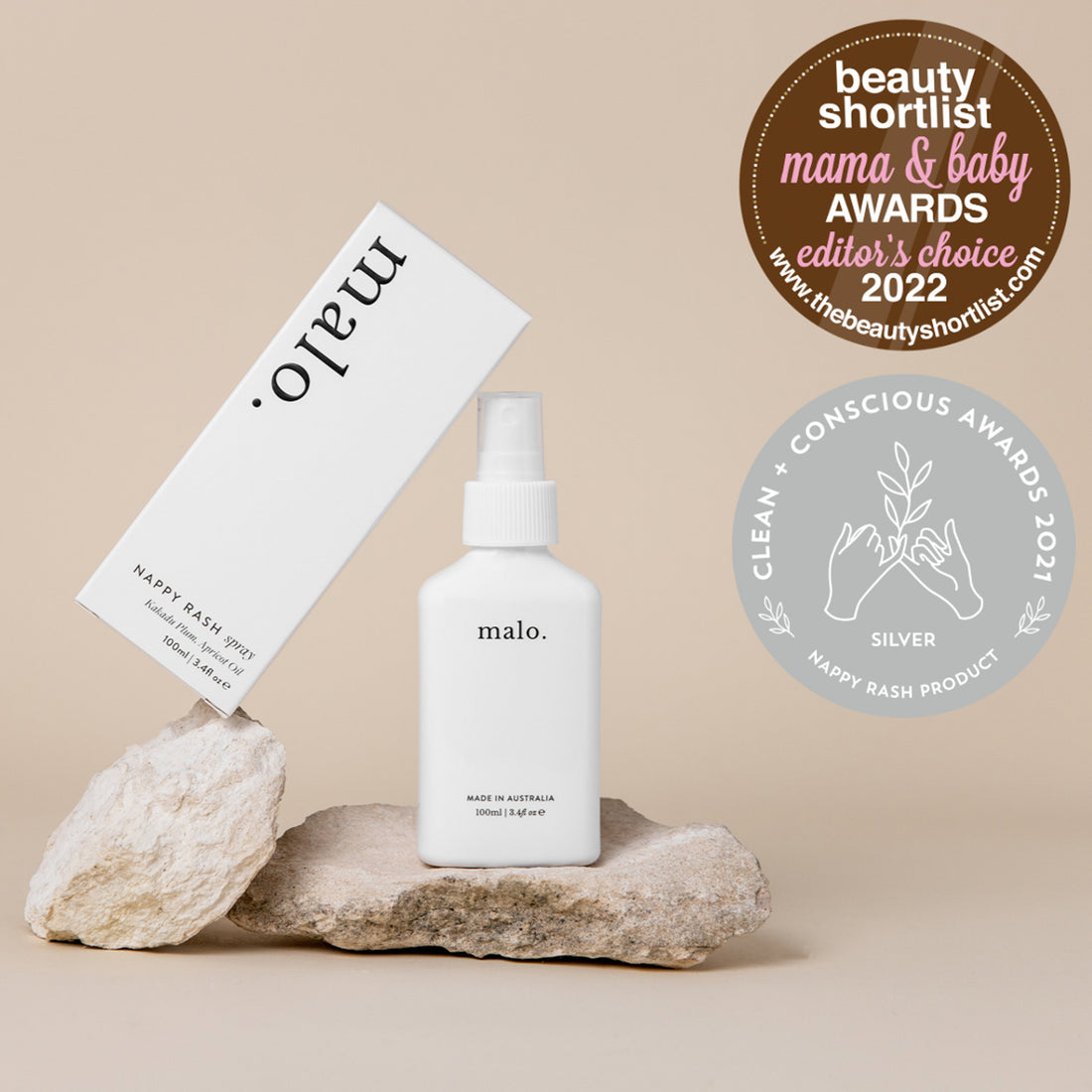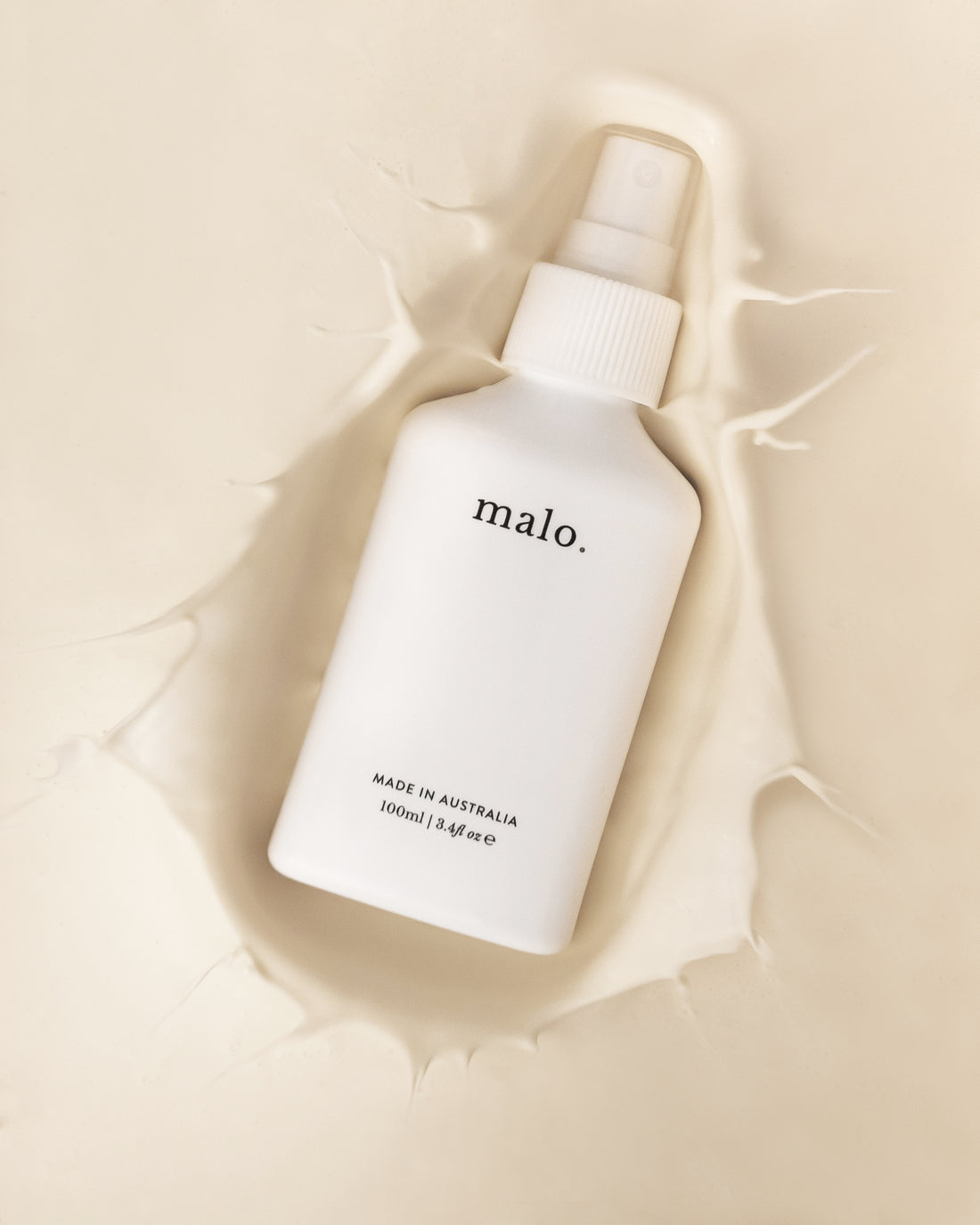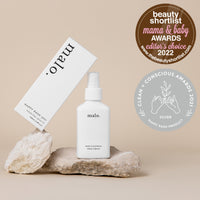 Malo Baby Nappy Rash Spray 100ml
WINNER Silver Best Nappy Rash Product - Clean & Conscious Awards 2021!
Practical design for quick & easy nappy change on-the-go
Consciously made in Australia from simple, clean Australian ingredients that work
It's a modern alternative to traditional creams, but with all the same benefits.
Over 100+ Nappy Changes in each bottle
No need to rinse, rub or wipe
Meet our Award-winning Nappy Rash Spray, used by thousands of parents worldwide. 
Designed to be beautiful & practical for quick & easy nappy change on-the-go. 
Simply spray at each nappy change - No need to rinse, rub or wipe which means no messy fingers so you can keep moving.
It's hypoallergenic & made in Australia from simple, clean ingredients that work to soothe irritated skin. 
The formula is multipurpose - so you can use it on nappy rash, eczema, cradle cap, drool etc. 
It comes in a slim and compact bottle that fits easily into your diaper bag or change clutch. Over 100+ nappy changes in each bottle. 
Australian Kakadu Plum: An Australian native ingredient known for it's incredible healing power. It has the highest recorded value of natural Vitamin C in the world.
Calendula Tincturez:  The holy grail of herbs. It has antifungal and antimicrobial properties help prevent infection and help to heal compromised skin.
Chamomile Extract: Anti-inflammatory and antibacterial to help ease skin conditions like redness,  eczema and rashes.
Cold-Pressed Apricot Kernal Oil: this non-allergenic oil boasts Vitamin C & Vitamin E to help soothe inflamed skin and maintain skin softness.
Cold-Pressed Sunflower Oil: Rich in linoleic acid which helps to maintain the skin's natural barrier. Anti-inflammatory properties help to lock in moisture and relieve dry skin conditions such as eczema.
Lavender Essential Oil: One of the most versatile and soothing essential oils, it helps to treat fungal infections, eczema and soothes irritations.
Mountain Fresh Spring Water: One of the purest waters in Australia sourced from the Blue Mountains in NSW, it contains trace minerals that help improve irritations, preserves elasticity and helps maintain a healthy skin barrier.
Mountain Ash Berry Preservative: A naturally derived alternative to parabens and ethylhexylglycerin to help prevent the growth of bacteria, fungi, mold and yeast in formulations.
Coconut Glycerine: Coconut Glycerine hydrates, soothes, and facilitates the healing of skin discomforts and conditions such as scratches, cuts, blemishes, burns, itching, hives, rashes, sores, eczema, psoriasis, and other ailments that are characterized by dryness, itchiness, or inflammation.
Zinc Oxide: A powerful mineral topical aid included at 5% to help treat skin rashes, redness, burning or itching.  
Australia:
Standard shipping - flat rate of $12.95 Express shipping - flat rate of $14.95
New Zealand:
$25.00 flat rate shipping on all orders.
International Shipping:
Postage rates are calculated automatically at the checkout and are based on the total weight of your order.
Returns:
We're dedicated to making your EcoNaps experience a great one. You can return any unwanted items within 30 days of purchase.